List of all UHD video samples and demo trailers available for download
DESCRIPTION

What is 4K sample video – Everything You Need to Know about It?
Discover all the important information you need to know about 4K video test files, 4K types including full 4K and UHDV and use our site to download 4K sample video for testing your TV.
Introduction: What is 4K?
The 4k video test files or Ultra HD videos has a resolution of is a resolution of 3840 X 2160 pixels. In other words, it is four times the resolution of 1920 X 1080 found on your HD TV. The result of such a high resolution is varied, more vibrant, and realistic colors. This resolution puts the 4K video test downloads on the top of the present scale of digital resolutions. The bottom is taken by the standard TV resolution (450 X 540), then HD (720 pixels), and full HD (1080 pixels). If we are measuring the resolution by the vertical height, 4K can be called 2160 pixels. The 4K resolution became a total mainstream and it is taking over the digital world, from TVs to
4k cameras
, computer monitors, and projectors.
What is the Difference between Ultra HD and 4K?
Besides the fact that 4K is a more used term, there is one technical difference between Ultra HD (UHD) and 4K. If it is used appropriately, the 4K describes a resolution of 4096 X 2160 pixels, a resolution used mostly in digital cinemas. The UHD, on the other hand, describes a resolution of 3840 X 2160 and you can find it in TVs (16:9 ratio TVs) and is what you can actually take home.
You can check our UHD demo trailers in full 4K video test.
In a nutshell, 4K is actually the wrong term for 3840 X 2160 resolution. However, it is used almost all the time and that is why the distinction between 4K and UHD has been lost. As a matter of fact, these two terms are identical for most people.
What Makes 4K So Good?
4K adds clarity and better definition to the picture. Actually, the result is images that look beyond amazing and life-like.It is like looking through a window and not at your TV.
The best result of 4K can be experienced on large screens, which means that you will need at least 65-inch TV or bigger. According to the experts, 4K sample video resolution improves the image quality at almost any screen size, but it is recommendable to experience it on a much bigger screen. That's way the effect is more obvious and noticeable.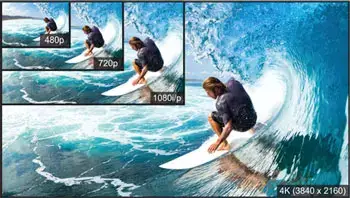 The Benefits of UHD TV
Improved resolution is not the only benefit of 4K TVs. There are few other benefits that can be experienced. Having a 4K TV enables you to access the future visual and connectivity specs. This can definitely come in handy especially because broadcasters starting to approach the new technology.
Also, you need to keep in mind that even if you can't notice the difference in resolution on 4K screen size, when compared to a convenient screen size, you should know that it exists. The much smaller and extra pixels create a real difference but sometimes the human eye cannot notice it and other features such as enhanced colors, ultra-high refresh rates, special motion rendering characteristics, and HDR technology. All of these features will make your viewing experience much better.
Besides these benefits, there are also the OLED 4K TV screens. They exist for Full HD TV models as well but aren't spectacular as in 4K TV models. The precision and the picture quality is way better in 4K UHD OLED models.
So, if you are looking for the best image quality, look no further as 4K TV is all you need!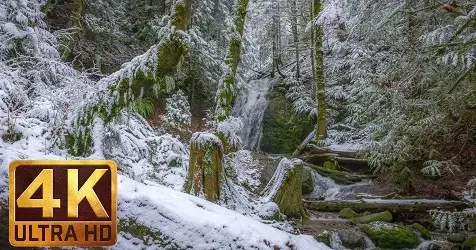 Are There 4K TVs On the Market To Purchase?
The 4K TVs are available for purchasing. As a matter of fact, they've been on the market for a few years now. However, they are cheaper and more affordable today. Besides the lower price, the 4K TV's have improved and became more functional. You can purchase a high-quality 4K TV for about the exact same price as HD TV last year.
Before purchasing, make sure to visit our site where you can download 4K video sample and check your TV.
In this section you can download files to make your 4k video test.
A Final Word
You can finally compare 4K video test resolution against all the other resolutions now – by downloading a 4K sample video. Only that way, you can experience how rich the video quality has become.
There are many 4K video samples and UHD demos. Whether you are looking for movie trailers in 4K video sample or other 4K samples, we are your best source.
Most downloaded:


List of all Ultra HD demo trailers:


DOWNLOADS
Brands 4K video samples
| Title | Sound System | Size (MB) | Extension | Resolution | Time |
| --- | --- | --- | --- | --- | --- |
| Panasonic Hokkaido | DD 2.0 | 1430 | mkv | 3840×2160 | 1:53 |
| Panasonic Marvelous | DD 2.0 | 2003 | mkv | 3840×2160 | 2:31 |
| Panasonic Perfume | DD 2.0 | 793 | mkv | 3840×2160 | 1:33 |
| Panasonic Cambodia | DD 2.0 | 1500 | mkv | 3840×2160 | 2:00 |
| Samsung Tech Story | AAC 2.0 | 491 | ts | 3840×2160 | 1:54 |
| Samsung Dive to new world | AAC 2.0 | 632 | ts | 3840×2160 | 1:52 |
| Samsung Dubai | AAC 2.0 | 604 | ts | 3840×2160 | 1:46 |
| Samsung Iceland | AAC 2.0 | 798 | ts | 3840×2160 | 2:37 |
| Samsung Lovely Swiss | AAC 2.0 | 1210 | ts | 3840×2160 | 3:40 |
| Samsung The City Limits | AAC 2.0 | 685 | ts | 3840×2160 | 2:09 |
| Samsung The Quiet Czech | AAC 2.0 | 1030 | ts | 3840×2160 | 3:23 |
| Samsung USA Road Trip | AAC 2.0 | 766 | ts | 3840×2160 | 2:18 |
| Samsung Fashion Show Milan | AAC 2.0 | 894 | ts | 3840×2160 | 2:34 |
| Hisense Microcosmic | DD 2.0 | 1230 | mkv | 3840×2160 | 3:31 |
| Hisense Tibet | DD 2.0 | 2480 | mkv | 3840×2160 | 3:36 |
| Hisense Planet | DD 2.0 | 2140 | mkv | 3840×2160 | 3:26 |
| Hisense Timelapse | DD 2.0 | 2370 | mkv | 3840×2160 | 3:36 |
| Hisense Expedition | DD 2.0 | 1440 | mkv | 3840×2160 | 2:26 |
| LG Arctic | AAC 2.0 | 634 | mp4 | 3840×2160 | 1:53 |
| LG Spain-Patagonia | AAC 2.0 | 396 | mp4 | 3840×2160 | 1:14 |
| LG Greece-Norway | AAC 2.0 | 262 | mp4 | 3840×2160 | 1:06 |
| LG Hong Kong | AAC 2.0 | 539 | mp4 | 3840×2160 | 1:36 |
| LG Istanbul | AAC 2.0 | 1660 | mp4 | 3840×2160 | 2:13 |
| LG Europe | AAC 2.0 | 1460 | mp4 | 3840×2160 | 2:20 |
| LG Garden | AAC 2.0 | 2520 | mp4 | 3840×2160 | 3:04 |
| LG Landscape | AAC 2.0 | 1340 | mp4 | 3840×2160 | 1:55 |
| LG Paris | AAC 2.0 | 1610 | mp4 | 3840×2160 | 2:10 |
| LG Saint-Petersburg | AAC 2.0 | 902 | mp4 | 3840×2160 | 1:13 |
| LG Story of Earth | AAC 2.0 | 946 | mp4 | 3840×2160 | 2:15 |
| LG American Cities | AAC 2.0 | 105 | mp4 | 3840×2160 | 0:47 |
| Sony Mont Blanc | AAC 2.0 | 755 | m2ts | 3840×2160 | 1:28 |
| Sony New York | AAC 2.0 | 937 | mp4 | 3840×2160 | 1:50 |
| Sony Triluminos | AAC 2.0 | 1560 | mkv | 3840×2160 | 1:59 |
| Sony Whale | AAC 2.0 | 815 | mp4 | 3840×2160 | 1:32 |
| Philips Beach Life | AAC 2.0 | 602 | mkv | 3840×2160 | 2:11 |
| Philips Lightwaves | AAC 2.0 | 643 | mkv | 3840×2160 | 2:23 |
| Philips Equilibrium | AAC 2.0 | 384 | mkv | 3840×2160 | 1:24 |
Sound System UHD Trailers
| Title | Sound System | Size (MB) | Extension | Resolution | Time |
| --- | --- | --- | --- | --- | --- |
| Dolby Chameleon | DD 5.1 / Atmos | 185/204 | mkv | 3840×2160 | 0:45 |
| Dolby Core Universe | DD 5.1 / Atmos | 185/204 | mkv | 3840×2160 | 0:45 |
| Dolby Escape | DD 5.1 / Atmos | 185/204 | mkv | 3840×2160 | 0:45 |
| Dolby Leviathan | DD 5.1 / Atmos | 185/204 | mkv | 3840×2160 | 0:45 |
| Dolby Pufferfish | DD 5.1 / Atmos | 185/204 | mkv | 3840×2160 | 0:45 |
| DTS Features | DD 5.1 / DTS:X / DTS-HD MA 7.1 | 875/968 | mkv | 3840×2160 | 1:42 |
| DTS Object Emulator | DTS:X / DTS-HD MA 7.1 | 615 | mkv | 3840×2160 | 1:35 |
| DTS Out of the Box Long | DD 5.1 / DTS:X / DTS-HD MA 7.1 | 481/522 | mkv | 3840×2160 | 1:00 |
| DTS Out of the Box Medium | DD 5.1 / DTS:X / DTS-HD MA 7.1 | 280/304 | mkv | 3840×2160 | 0:34 |
| DTS Out of the Box Short | DD 5.1 / DTS:X / DTS-HD MA 7.1 | 89.80/102 | mkv | 3840×2160 | 0:19 |
| DTS 7.1.4 Callout | DTS:X / DTS-HD MA 7.1 | 359 | mkv | 3840×2160 | 0:42 |
| THX Eclipse Long | DD 5.1 / DTS-HD MA 7.1 | 157/178 | mkv | 3840×2160 | 0:47 |
| THX Eclipse Short | DD 5.1 / DTS-HD MA 7.1 | 102/118 | mkv | 3840×2160 | 0:32 |
| IMAX Pre Show 2014 | DD 5.1 / DTS-HD MA 5.1 | 185/204 | mkv | 3840×2160 | 0:45 |
| IMAX Pre Show 2015 | DD 5.1 | 124 | mkv | 3840×2160 | 1:11 |
4K Dolby Vision video samples
| Title | Sound System | Size (MB) | Extension | Resolution | Time |
| --- | --- | --- | --- | --- | --- |
| Amaze | DD 5.1 | 190 | MP4 | 3840×2160 | 0:56 |
| Art | DD 5.1 | 266 | MP4 | 3840×2160 | 1:17 |
| Art of Essence | DD 5.1 | 259 | MP4 | 3840×2160 | 1:19 |
| Blocks | DD 5.1 | 182 | MP4 | 3840×2160 | 0:44 |
| Containers | DD 5.1 | 183 | MP4 | 3840×2160 | 0:44 |
| Food | DD 5.1 | 264 | MP4 | 3840×2160 | 1:16 |
| Landscape | DD 5.1 | 257 | MP4 | 3840×2160 | 1:14 |
| LG | DD 5.1 | 308 | TS | 3840×2160 | 1:21 |
| LG Earth | DD 5.1 | 229 | MP4 | 3840×2160 | 0:55 |
| NASA | DD 5.1 | 510 | MP4 | 3840×2160 | 2:23 |
| ON-Off | DD 5.1 | 678 | TS | 3840×2160 | 2:16 |
| Palette | DD 5.1 | 271 | MP4 | 3840×2160 | 0:44 |
| People | DD 5.1 | 264 | MP4 | 3840×2160 | 1:16 |
| Sails | DD 5.1 | 184 | MP4 | 3840×2160 | 0:44 |
4K 60fps video samples
| Title | Sound System | Size (MB) | Extension | Resolution | Time |
| --- | --- | --- | --- | --- | --- |
| LG Daylight | DD 5.1 | 358 | mkv | 3840×2160 | 0:48 |
| LG Journey to Space | DD 5.1 | 549 | mkv | 3840×2160 | 1:14 |
| LG NASA | DD 5.1 | 709 | mkv | 3840×2160 | 2:22 |
| LG Rays | DD 5.1 | 768 | mkv | 3840×2160 | 2:12 |
| Samsung and Red Bull | DD 5.1 | 1190 | mkv | 3840×2160 | 3:18 |
| Samsung Chasing | DD 5.1 | 762 | mkv | 3840×2160 | 1:35 |
| Samsung Ride | DD 5.1 | 992 | mkv | 3840×2160 | 2:40 |
| Samsung Travel | DD 5.1 | 957 | mkv | 3840×2160 | 2:35 |
| Sony Bahamas | DD 5.1 | 861 | mkv | 3840×2160 | 2:31 |
| Sony Food | DD 5.1 | 726 | mkv | 3840×2160 | 1:22 |
| Sony Swordsmith | DD 5.1 | 734 | mkv | 3840×2160 | 1:26 |
4K HDR10 video demos
| Title | Sound System | Size (MB) | Extension | Resolution | Time |
| --- | --- | --- | --- | --- | --- |
| LG Cymatic | DD 5.1 | 1100 | MP4 | 3840×2160 | 2:39 |
| Life Untouched | DD 5.1 | 449 | MP4 | 3840×2160 | 3:18 |
| Sony Bravia OLED | DD 5.1 | 724 | MP4 | 3840×2160 | 1:23 |
Theater UHD demo videos
| Title | Sound System | Size (MB) | Extension | Resolution | Time |
| --- | --- | --- | --- | --- | --- |
| Sony Pictures Movies 1 | DD 5.1 | 328 | mkv | 3840×2160 | 1:03 |
| Sony Pictures Movies 2 | DD 5.1 | 483 | mkv | 3840×2160 | 1:07 |