List of all 4K HDR10 demo trailers available for download
DESCRIPTION

UHD-4K HDR (High Dynamic Range) technology is just as revolutionary for our TVs and probably more spectacular at sight than the switch from HD to Ultra High Definition.
Why? Because they allow you to display an image with greater brightness differences between its darker and brighter parts than with standard TVs (SDR = Standard Dynamic Range). And because the human eye is extremely sensitive to variations in light intensity, the result is immediately noticeable: greater contrast within the image, more gradation in the brightness scale, therefore also in the colors, and more visible details in the brightest and darkest parts of the image.
Delivering images with greater brightness and greater subtlety in contrast, UHD-4K Blu-ray players, UHD-4K televisions and HDR-compatible projectors come close to the perception potential of the human eye. Offering a wider color space, 4K HDR10 demo standards allow images to be viewed with unparalleled brightness and realism thanks to higher brightness and a wider range of color tones.

HDR = High Dynamic Range
Those who practice photography will surely know this term: the dynamic range of an image is the range measured between its lightest and darkest part. The wider the dynamic range, the more contrasting and readable the image will be, in both dark and light areas. Blacks and whites are more nuanced, colors richer and subtler.
The introduction of a wide dynamic range in the video field therefore makes it possible to distinguish many details from the darkest to the brightest areas of the image. However, this requires that all equipment used for image capture (cameras), post-production (editing, digital effects, etc.) and broadcasting (broadcasting services, televisions, etc.) be compatible.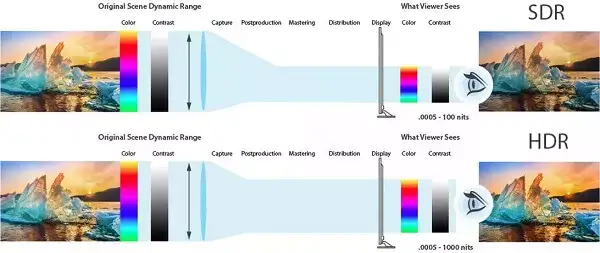 SDR
In SDR, the colorimetric range and luminance differences of the original image are reduced during post-production, mastering, and distribution in order to accommodate the limitations of broadcast equipment that meets standards dating back to the CRT era.
The advent of high definition (HD 720p and then HD 1080p) has made it possible to update image resolution to 1920 x 1080 pixels and improve colorimetry with the adoption of color space Rec.709 (8-bit color coding, 256 values, covering approximately 35% of the spectrum visible to the human eye), paving the way for Deep Color and x.v.Colour technologies implemented in LCD and plasma HD and Full HD TV (HDTV and HDTV 1080p).
Ultra-high definition (UHD or HDR10 demo) went further by quadrupling the resolution of the images (UHD = 3840 x 2160 pixels) and adopting an even wider colour space (Rec.2020, 10-bit colour code, or 1024 values) to cover 75% of the spectrum visible to the human eye.
But to do this, it was necessary to exceed the limit of 100 candles/m² that characterizes the maximum brightness of the images shown by a television, which has been set all these years at the physical limits of cathode ray tubes, while the human eye is able to adapt to brightness levels ranging from 0.0001 to 10,000 candles/m²!
HDR

In HDR, the dynamic range of the image is still much wider than in SDR and does not experience any bottleneck. From post-production to viewing on the TV in the living room, the image offers more shades of color and brightness, it is more faithful to the original.
This was done with the UHD and SMTPE ST2084 EOTF standard, which therefore defines a wider dynamic range for Ultra HD Premium TVs (HDR 10 compatible), based on the actual sensitivity of the human eye to contrast, and allowing a wide range of luminance.
HDR10
It is a standard based on an open platform, called HDR 10 because it uses a 10-bit color quantification scale. Each TV manufacturer that uses it can implement it as they wish (some LCD LED TV manufacturers call it "HDR 1000").
This is the HDR standard used in 4k HDR10 demos by the UHD Alliance to award the Ultra HD Premium label and calibrate the films marketed on UHD Blu-ray media. It competes with Dolby Vision, a patented HDR standard developed by Dolby Laboratories, which uses 12-bit quantification in particular.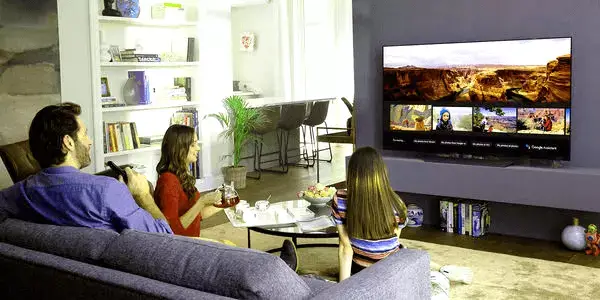 HDR10+
This HDR standard was developed by the UHD Alliance to compete with Dolby Vision. Like Dolby Vision, the
HDR10+
standard uses dynamic metadata integrated into the video stream so that the compatible station (TV, video projector) can optimize the display, scene by scene. This open standard is supported by 20th Century Fox, Panasonic Corporation and Samsung.
4K HDR and HDR Pro
The wording HDR and its derivatives HDR Pro, HDR Plus (not to be confused with the HDR 10 standard) do not constitute an official quality label or a clearly defined standard (HDR simply means "High Dynamic Range"). Therefore, when placed on a TV, it indicates that it offers a wider dynamic range than a standard TV (DEG), which is limited to 100 nits (or 100 candles/m²). Brands whose TVs do not meet all Ultra HD Premium label criteria, but still offer a maximum brightness of more than 100 candles/m², use this name to distinguish themselves from standard TVs. To check if your TV is compatible download our HDR10 demo trailers.
List of all 4K HDR10 demo video samples:


DOWNLOADS
4K HDR10 video samples
| Title | Sound System | Size (MB) | Extension | Resolution | Time |
| --- | --- | --- | --- | --- | --- |
| HDR10 -LG Cymatic- | DD 5.1 | 1100 | MP4 | 3840×2160 | 2:39 |
| HDR10 -Life Untouched- | DD 5.1 | 449 | MP4 | 3840×2160 | 3:18 |
| HDR10 -Sony Bravia OLED- | DD 5.1 | 724 | MP4 | 3840×2160 | 1:23 |